HEBDEN BRIDGE WALKERS ACTION

News
We will try and keep this page up to date, but we need help from friends sending in the news. If you have any news you would like us to add on this page, send the text to HBWA
Wadsworth Parish Boundary Walk (April 2013)
The Rotary Club of Hebden Bridge is organising this on Sunday 2nd June. Full details of the walk can be found on the Rotary website.
Rewrite of 3 walks leaflet (March 2013)
This is now out of print, but thanks to a grant from Hebden Royd Town Council, we can now update and reprint this popular guided walk leaflet. we hope it will be ready in May.
906 Launch (March 2013)
The first service leaves Hebden Bridge railway station on Sunday March 31st. We will be leading two guided walks, a short walk from Midgehole from the 10.46 bus and Longer walk over the tops from the 11.12 departure. See 906 page for details of 906 project.
2013 snow
There are loads of fantastic pictures of spindrifts etc (see Heb web) but our favourite was taken by Harry who we met above Horsehold. It's the Pennine Way sign at Swillington farm.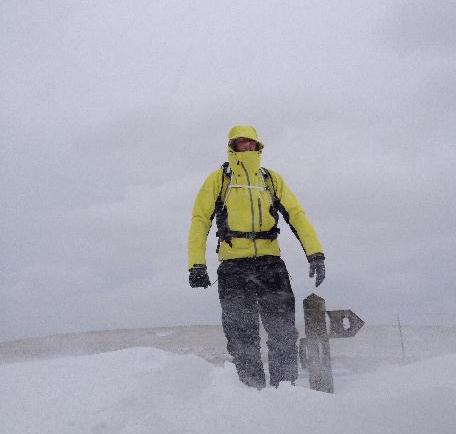 906 bus project funding secured (February 2013)
Metro has agreed to fund the production of leaflets and a booklet of walks for the 906 bus. We still need people to check the walk directions. If you are interested ring Richard on 0787 296 0942
Overgate 3 mile sponsored Ogden walk (February 2013)
This takes place on Sunday March 10th for further details, contact fund raising team on 01422 387121
Report form (January 2013)
The form for reporting problems with footpaths and bridleways is now live and is being advertised. Tell your friends!
Walkers are Welcome (January 2013)
HBWA will aim to get a meeting with all the people with an interest in the Walkers are Welcome 'brand' to see what should be done with it.
906 bus (January 2013)
The project is still moving ahead, but we have still not heard about funding for the walks from the 906 bus
Relaunch January 14th (January 2013)
It was agreed to keep HBWA going for another six months so that existing projects could be completed. We will then look at what activities are needed and what form HBWA should take.
New path from Hebden to to Hardcastle Craggs (June 2012)
This is a long standing issue HBWA has done work on in the past. We have now identified a possible source of funding, so are consulting interested parties to see whether they are interested in forming a consortium to make a bid.
The future of Calderdale Countryside Service (June 2012)
At the end of May Calderdale Council called a meeting of staff, volunteers and oter interested groups to discuss future priorities and issue. The session was very well attended and in July we expect to have sight of any proposals that emerge from the meeting.
The future of Calderdale Countryside Service (April 2012)
Rumours abound, first that it was to be abolished, then it was reprieved, then it was to be handed over to another organisation, then Amey were going to do all the work. The current news from the volunteers is
The budget for 2012-3 is the same as last year
£1500 has been allocated to upgrading the worst bits of the Calderdale way
No decision has been made about the long term future (wait until after the election perhaps?)
New season of Calderdale Heritage walks (April 2012)
Walks for 2012 have just been published. There are leaflets in Toursist Information Centres and other outlets or you can download the details from the Calderdale Heritage Walks website.
Pennine Horizon E-Trails (April 2012)
Following the two pilot e-Trails done in 2010, Pennine Horizons have funding to produce a dozen more. Agreed topics so far are Cragg Valley, yeomans Housing in Barkisland and Norland, Geology, Trees, The Fielden family. If anyone is interested in helping develop new E-trails, contact Pennine Horizons.
National Trail in Hebden Bridge (March 2012)
We all know that the Pennine Way passes through close to Hebden bridge, but did you know that there are a number of National Trails off the Pennine Way? One of them is the Hebden Bridge Round - a 12km circular walk.
On line Ordinance Survey (March 2012)
You can access OS maps for Calderdale on Calderdale Council's website. There is the facility for zooming in on a particular area. If you have a smart phone bookmark the site in case you get lost!
Gentle walking (March 2012)
Hebden Bridge Walkers Action's Gentle Walking leaflet rapidly went out of print. We have now got a reprint under way (thank you to the town council for grant support for this).
Two more walk leaflets (Feb 2012)
These are for a walk in the Cragg Vale valley and the footpaths in Eaves Wood, Mytholm. These are available from Hebden Bridge Visitor Centre and other local outlets.
Our three waymarked trails from Hebden Bridge are proving popular. Two maps/information boards have been erected, at Hebden Bridge station and in the centre of Hebden Bridge. Each waymarked walk is featured on this website. A guide is also available (price 50p) from the Tourist Information Centre, Book Case, Mountain Wild and Alternative Technology Centre Green Shop.
{Earlier news is now in our news archive section]