HEBDEN BRIDGE WALKERS ACTION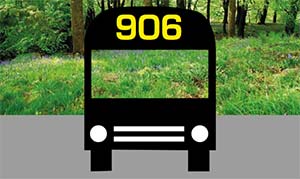 906 BUS WALKS 7
Packhorse Inn to Hebden Bridge via Colden
Packhorse Inn to Hebden Bridge via Colden
Main features of the walk
This is a relatively easy walk with fantastic views of the upland landscape and two of the main valleys in the area.

Length and time
It's about 10 km (about 6½ miles) and should take you about 3 hours (+ stops).

Gradients – how strenuous
Most of the walk is on the flat or gentle inclines with one short uphill and downhill at the start.

Terrain – how uneven
This walk is on a clear path with most of it on good tracks.

Obstacles – stiles, steps etc.
There are two stiles and two gates .

Facilities on the walk
There is a pub at the beginning, half way through and loads of cafés pubs and eateries at the end in Hebden Bridge.

What to take
It can be windy at this height and there is very little shelter, so take warm/wind proof clothes even if it's a sunny day. The walk is on good surfaces so a good pair of walking shoes would be adequate. Take a copy of the Hebden Bridger E bus timetable in case you want to shorten the walk at Jack Bridge.
Detailed directions for walk 7 Packhorse Inn to Hebden Bridge via Colden
This walk starts at the Packhorse Inn (where you might have lunch before you set off). Carry on down the road away from Hebden Bridge for 150 metres and take the footpath on the left, going over the ladder stile by a signpost.
Follow the path by the wall downhill until you reach a stile, coming out on to the Pennine Way. Cross the stile turning left and head down hill. After 20 metres fork right, passing through a gate down to path by the side of Graining water, still following the Pennine Way.
Cross the two bridges and take the path heading up hill through the stone gate posts. The path heads up to the left of Gorple Cottages and crosses a track by a 4 way signpost. Go straight across, now on a track through a pair of metal gates signposted Pennine Way and Pennine Bridleway. After 250 metres go through a gate and go straight ahead signposted Pennine Bridleway.
As you come over the crest of the hill, Noah Dale comes into sight straight ahead and, if you look to your right you will see the remains of Reeps cross. The track now drops down to a gate where you go straight ahead, sign-posted 'Pennine Bridleway - Blackshawhead 2 miles'. After 1km the surface of the track becomes tarmac.
After ½ km the Pennine Bridleway turns sharp right, but you carry straight on, (300 metres down the Pennine Bridleway is Land Farm, a delightful open garden, so a detour may be in order).
Heading straight on, 100 metres on your left , you pass a row of cottages and then immediately take a track going down off to the right. The track passes some houses on your right and then bends down to the right then winding through a series of dwellings until it reaches the Blackshaw Road at a bus stop.
Here you can get a bus back to Hebden Bridge or if you turn right down the road for about 300 metres to Jack Bridge and the New Delight Inn where you might want to take a break.
Coming out of the New Delight, turn right uphill and after 50 metres take the track on your left signposted Pennine Bridleway to Callis Bridge.
Keep straight ahead on this track (ignore all turnings off) until after 2km you come out on a tarmac road. Go down this road, past the church until you reach the main road. Cross the road (be careful and use the island) and go through a gap in the wall, down a set of steps and follow the path along Colden water. Cross the bridge and go straight ahead where, after 50 metres you come out on the Rochdale canal.
Turn left along the towpath and Hebden Bridge town centre is about 1km walk